27-10-2014

Remembering Steve Took, who passed away 34 years ago today at the age of 31. R.I.P.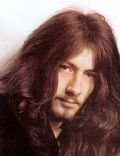 20-10-2014

ROLAN BOLAN November Tour Dates!
7th November- The Craufurd Arms, 59, Stratford Road, Wolverton, Milton Keynes, MK12 5LT.
14th November- The Boulevard, 17, Wallgate, Wigan, WN1 1LD.
15th November- Raine Club, 160, Durham Street, Holderness Road, Hull, HU8 8RQ.
20th November- The Leopard, 2, West St, Doncaster DN1 3AA.
21st November- Yardbirds Rock Club, Church St, Grimsby, North East Lincolnshire DN32 7DD.
27th November- The New Roscoe, Bristol St, Leeds, West Yorkshire LS7 1DH.
28th November- The Queens Hall, 75-77, Queens Road, Nuneaton, Warwickshire, CV11 5LA.
29th November- The Robin 2, 20-28, Mt Pleasant, Bilston, West Midlands WV14 7LJ
30th November- The Ferry, 25, Anderston Quay, Glasgow G3 8BX
19-10-2014

Happy Birthday to Gloria Jones!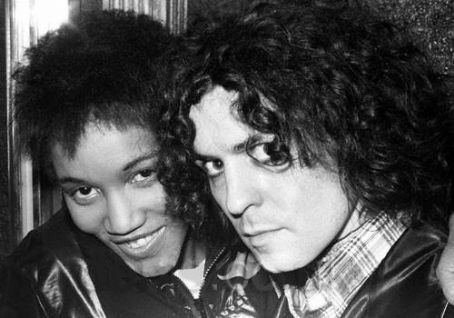 30-09-2014

Thinking of Marc on what would have been his 67th Birthday.

26-09-2014

Wishing a Happy 39th Birthday to Rolan Bolan!

19-09-2014

Thinking of Simeon (Sid) Feld, who passed away on this day in 1991. R.I.P.
16-09-2014

Remembering Marc Bolan 37 years on. Always our Precious Star. R.I.P.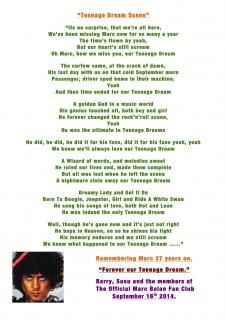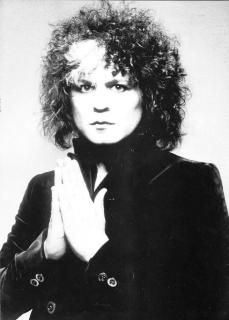 11-09-2014

Wishing safe journeys to all those travelling to London for the various Marc Bolan events. Looking forward to seeing old faces & meeting new ones! Will be thinking of those who cannot make it this year but who will still be remembering Marc in their own ways.
Keep A Little Marc In Your Heart!
06-09-2014

Rolan Bolan is appearing on Friday 7th November 2014 at-
The Craufurd Arms
59, Stratford Road
Wolverton,
Milton Keynes,
MK12 5LT.  
7.30pm start, tickets £11.
Also on 28th November 2014 at-
The Queens Hall,
75-77, Queens Road,
Nuneaton,
Warwickshire,
CV11 5LA.
05-09-2014

LONDON BOP!
Please note there are only a few days left to send for your tickets. Last date for posting will be Tuesday 9th September. To order, please contact londonbop@yahoo.co.uk.
OMBFC members Pre-Bop: members should log in to our website for details.
31-08-2014

Thinking of Marcs wife June, who passed away on 31st August 1994.
R.I.P.
23-08-2014

August 23rd would have been the 87th Birthday of Marcs Mum, Phyllis Feld,
born in 1927. R.I.P.
Also remembering Marcs wife June on what would have been her 71st Birthday. R.I.P.
22-08-2014

We are remembering Simeon Feld, Marcs father, who was born
on this day in 1920. R.I.P.
29-07-2014

LONDON BOP 2014!
Tickets will only be posted up to 9th September so you only have 6 weeks left to send for them!
One free A3 colour poster (choice of two) for OMBFC members who send for tickets in advance! These will be given to you at the Bop so do not forget to claim yours!
There is a list of B&Bs & hotels on our Fan Forum.
For any info please contact londonbop@yahoo.co.uk
29-07-2014

SATURDAY 13th SEPTEMBER 2014 - a choice of TWO Bolanic events!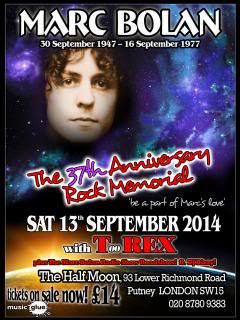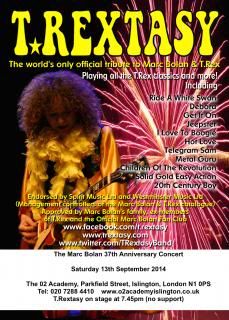 28-07-2014

Thinking of Steve Peregrin Took (born Stephen Ross Porter), who would have celebrated his 65th birthday today. R.I.P.

14-07-2014

VOTE FOR MARC!
BBC Radio 2 are holding a poll to find the listeners favourite guitar riff!
There are 100 riffs to choose from, including "20th Century Boy", so get voting at
http://www.bbc.co.uk/programmes/articles/3CPpg0bvRvy4kVLtv49MyD6/radio-2-top-100-greatest-guitar-riffs-vote
The vote will be live until 5pm on July 25th. The Top 100 will then be counted down in order of preference from midnight to 5pm on 25th August on Radio 2 to find R2's ultimate guitar riff of all time!
05-07-2014

Happy Birthday to the legendary Andy Ellison!


04-07-2014

"Rock On" to my friend Left Hand Milan, who would have celebrated his 55th Birthday today. R.I.P.
19-06-2014

MARC BOLAN LONDON BOP 2014!
DATE- 16/9/14. Doors open 6pm, ending at 1am.
VENUE- The Claddagh Ring,
10 Church Road,
Hendon,
London,
NW4 4EA.
Bolan/T.Rex disco with Bop DJ Peter.
Live music from the FAB "Strange Orchestra".
Raffle in aid of The Alzheimers Society.
TICKETS- £10 each, available now.
To order, please contact londonbop@yahoo.co.uk.
06-06-2014

ROLAN BOLAN TOUR 2014.
Confirmed dates-
29 June: The Half Moon, Putney.
4 July: The Sailmakers Arms, Hull.
5 July: The Cask Inn, Scarborough.
6 July: The New Roscoe, Leeds.
9 July: The Grey Horse, Kingston, London.
03-06-2014

Remembering the lovely Mickey Finn on his 67th Birthday. R.I.P.

20-05-2014

Thinking of Steve Currie today on what would have been his 67th Birthday  bday
R.I.P.

08-05-2014

Happy 70th Birthday to Bill Legend!
Legendary drummer with the original T.Rex.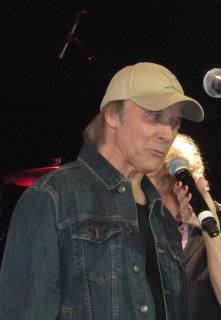 03-05-2014

In memory of my dear friend Wayne, who passed away 1 year ago today. Wayne was a massive Bolan fan and was DJ at our Beltane and Rexmas Bops in Newcastle. Thinking of Wayne and his lovely family on this sad day. R.I.P. x
28-04-2014

In memory of Steve Currie, who passed away on 28th April 1981 in a car accident in Portugal.
R.I.P.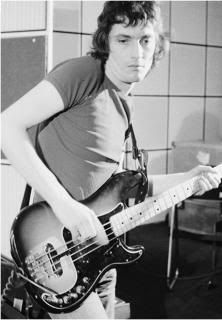 22-04-2014

Remembering my Bolanic friend Milan on the 7th Anniversary since his passing. Still greatly missed. R.I.P.
17-04-2014

Good luck to all involved in the stage production of "20th Century Boy-The Musical", which opens tomorrow!
The 2014 tour opens at Eden Court, Inverness on 18-19 April, before visiting:
Manchester Opera House (22-26 April),
Birmingham Alexandra (28 April-3 May),
Southampton Mayflower (6-10 May),
Bristol Hippodrome (12-17 May),
Sunderland Empire (19-24 May),
York Grand Opera House (26-31 May),
Belfast Grand Opera House (2-7 June),
Woking New Victoria (9-14 June),
Cardiff New Theatre (17-21 June),
Wimbledon New Theatre (23-28 June),
Wolverhampton Grand Theatre (30 June-5 July),
Plymouth Theatre Royal (7-12 July),
and Southend Cliffs Pavilion (14th-19th July).
Further dates-
Kings Theatre, Edinburgh (22nd-27th September 2014),
Darlington Civic Theatre October (13-18 Oct 2014).
01-04-2014

LIVERPOOL BOP!
I LOVE TO BOOGIE - MARC BOLAN & T.REX TRIBUTE NIGHT.
SAT 22nd MARCH 2014, 7.30pm - 2am.
Bop till you drop at The Regency, 19 - 21 Derby Lane, Old Swan, Liverpool, L13 6QA.
The Rex, top T.Rex tribute band, will be playing the sounds and songs of T.Rex "live" on the night.
Tickets will cost £6, all proceeds from the night will be going towards local charities. There will also be a raffle on the night.
For further details e mail terryandjude@aol.com
20-03-2014

RECORD STORE DAY 19/4/14.
T. Rex - Tanx Demon Records - LP + download Dual Colour LP + Poster + Download Card:
Cut from a brand new 2014 Tony Visconti master, this exclusive and very special Record Store Day 2014 release celebrates the 1973 T.Rex classic Tanx. Pressed on a dual Red & Blue coloured 180 gram LP, the package also includes a large poster and download card for digital redemption of the record.



Marc Bolan - BBC – Electric Sevens 2 UMC - 4 x 7":


Single 1- Ride A White Swan, Beltane Walk.
Single 2- Electric Boogie, Woodland Rock.
Single 3- Woodland Bop Medley (Woodland Bop/Conesuela/King Of The Mountain Cometh/Woodland Bop), Jewel.
Single 4- By The Light Of A Magical Moon, Once Upon The Seas Of Abyssinia.