07-12-2013

News from Born To Boogie Productions-

STOP PRESS: 20th Century Boy - The Musical
The news about the 15 week National Tour of the UK is already spreading like wildfire over Facebook but full details of venues and dates are only being revealed as Theatres get ready to offer tickets for sale. Though we do now already have a handful confirmed and taking bookings.
Special Offer / Bolan Boa tickets for early birds
For those people who have not already bought tickets – you would be advised to book early to get those premium seats which include a free Bolan boa!
View confirmed tour dates and buy tickets now at http://www.borntoboogie.net/20th-century-boy/
To get a feel of what the show is like watch the Video on www.20thcenturyboythemusical.co.uk by clicking the link below.
http://www.borntoboogie.net/20th-century-boy/

Re-Launch of Born to Boogie – the DVD
Behind the scenes we are pushing BMG Chrysalis - the new owners of this package for the Re-Launch of Born to Boogie – the DVD so that you could be enjoying it in Blu - Ray format!
Hoping we can achieve release of this Marc Bolan / Ringo Starr collaboration in a Box Set including the T. Rex "Live at Wembley" album which was digitally remastered for Sanctuary by Tony Visconti. This could happen in Spring 2014 – but watch this space.
Read more at http://www.borntoboogie.net/born-to-boogie/dvd/

"Tanx + Zinc Alloy" Box Set Release
Following the success of "The Slider" Box Set in 2012 Demon Records are in the process of putting together a deluxe high quality package by combining the "Tanx + Zinc Alloy" albums in one package.
Both re-mastered by the Legendary Original Producer Tony Visconti. Plus a few added extras!
This will be a Limited Edition release of just 1500 copies and is likely to be scheduled for Release on 3rd March 2014.
For news updates – follow the Official T.Rex Facebook page: http://www.facebook.com/T.RexBolan

Back to Vinyl
Demon Records are also planning to reissue all 6 of their T. Rex albums on vinyl in 2014. We will let you know more as soon as we do.
26-11-2013

20th CENTURY BOY - THE MUSICAL.
Here is a message I have received about the show:

The news you have been waiting for! We are delighted for fans to be the first to know that 20th Century Boy The Musical will be touring the UK from Spring 2014. Venues and dates can be found here at http://www.20thcenturyboythemusical.co.uk/. Most venues are now on sale so fans can book ahead of the crowd to get the best seats.

The smash hit musical is endorsed by Marc Bolans son Rolan who says:

Musical tastes change throughout a lifetime but there is always a band that stays close to our hearts. The music of  T.Rex and my father, Marc Bolan, is still treasured by fans and continues to find many more admirers. Through song, laughter and tears, we come together to remember and keep a little of Marc in our hearts.

2014 Tour Dates.
INVERNESS EDEN COURT 18-19 April
MANCHESTER OPERA HOUSE 22-26 April
BIRMINGHAM ALEXANDRA 28 April – 3 May
SOUTHAMPTON MAYFLOWER 6-10 May
BRISTOL HIPPODROME 12-17 May
SUNDERLAND EMPIRE 19-24 May
YORK GRAND OPERA HOUSE 26-31 May
BELFAST GRAND OPERA HOUSE 2-7 June
WOKING NEW VICTORIA 9-14 June
CARDIFF NEW THEATRE 16-21 June
WIMBLEDON NEW THEATRE 23-28 June
PLYMOUTH THEATRE ROYAL 7-12 July
More to follow at a later date.
19-11-2013

Thinking of Gary Irwin, & his family & friends today, 5 years on. R.I.P.
In memory of Gary, Dave Appleyard is releasing a new four track CD entitled The Promise - The Music And Words Of Gary Irwin, today:
1. Its There Youll Find Me
2. Candyman
3. Falling
4. Let It All Out

As some members know, Gary sang with Dave in the band X-ERT, but he sadly passed away 5 years ago today. During the final months of his life they talked about music & lyrics. More recently, Dave worked on arrangements for the songs with the help of Dan Foster who used to work at Abbey Road Studios, & they have come up with some final mixes, two of which I have heard & they are beautiful. Gary & his family should be very proud.

The price for UK orders is £4.00, or £5.00 for international orders, both of which include postage & packing.
Please email Dave at d.k.appleyard@gmail.com & he will send you a PayPal invoice which can be paid using a credit/debit card. All profit will be donated to an appropriate charity (Gary died of cancer) although it will be his family who will decide which one in due course.
I hope as many members as possible can support this very worthwhile cause.
11-11-2013

In Remembrance of all the heroes.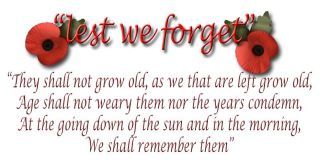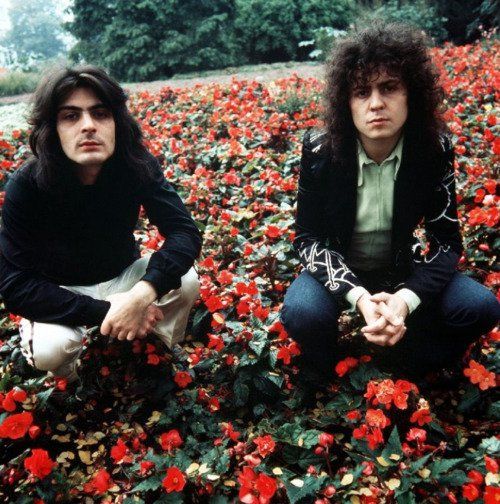 08-11-2013

20th Century Boy - The Musical.
Between 22nd April 2014 and 28th June 2014 this tour will visit venues in Manchester, Birmingham, Southampton, Bristol, York, Woking and Outer London. Dates for 20th Century Boy (Musical) tour-

Tue, 22nd April 2014 to Sat, 26th April 2014:
Opera House, Manchester.

Mon, 28th April 2014 to Sat, 3rd May 2014:
New Alexandra Theatre, Birmingham.

Tue 6th May to Sat 10th May 2014:
Mayflower Theatre, Southampton.

Mon, 12th May 2014 to Sat, 17th May 2014:
Hippodrome, Bristol.

Mon, 26th May 2014 to Sat, 31st May 2014:
Grand Opera House, York.

Mon, 9th June 2014 to Sat, 14th June 2014:
New Victoria Theatre, Woking.

Mon, 23rd June 2014 to Sat, 28th June 2014:
New Wimbledon Theatre, Outer London.
27-10-2013

Steve Took (born Stephen Ross Porter) passed away 33 years ago today at the age of 31.
In Remembrance. R.I.P. Steve.


19-10-2013

Happy Birthday to Gloria Jones, who celebrates her 68th Birthday today.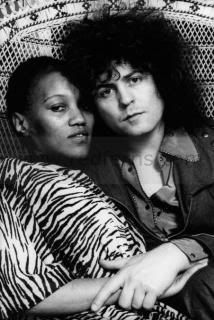 30-09-2013

Thinking of Marc on what would have been his 66th Birthday. Boogie On Marc!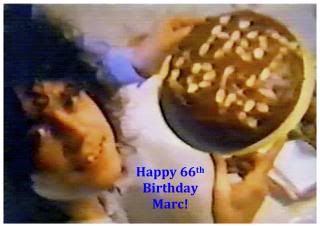 26-09-2013

Happy Birthday to Rolan Bolan, celebrating his 38th Birthday today! :)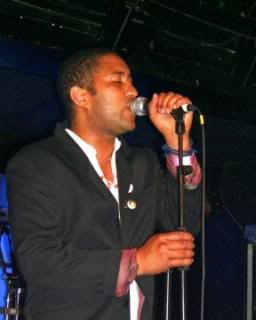 Photo by Susu.
20-09-2013

Today is the 36th Anniversary of Marc's funeral at Golders Green Crematorium.
"If I Cry My Tears Are Yours".
R.I.P. Marc
19-09-2013

Thinking of Marc's father, Simeon Feld, who passed away on 19th September 1991.
R.I.P.
16-09-2013

Remembering our Main Man, Marc Bolan, 36 years on.
Keep A Little Marc In Your Heart.


10-09-2013

Safe journeys to everyone travelling to London for this weekend's special events. For those not going, we know you are keeping Marc in your hearts on his 36th Anniversary & will be remembering him in your own special way.
Boogie on!
09-09-2013

There are only a few tickets left now for the London Bop on 16th September. If you still don't have yours, please contact londonbop@yahoo.co.uk as soon as possible!
31-08-2013

Remembering Marc's wife June, who passed away on 31st August 1994. R.I.P.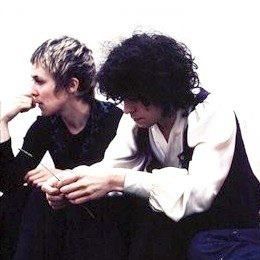 23-08-2013

And today would have been the 86th Birthday of Marc's Mum, Phyllis Feld, born on 23rd August 1927. R.I.P.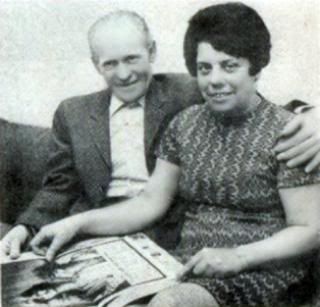 22-08-2013

Remembering Simeon Feld, Marc's father, who was born on this day in 1920. R.I.P.


17-08-2013

Spirit Music Group now have a Twitter page.
They are hoping to reach 1,000 followers & beyond so please join at https://twitter.com/marcbolanspirit
05-08-2013

Only 48 London Bop tickets left!
Don't miss out - contact londonbop@yahoo.co.uk
28-07-2013

Remembering Steve Peregrin Took (born Stephen Ross Porter), who would have celebrated his 64th birthday today. R.I.P.


22-07-2013

VOTE AGAIN FOR MARC! T.Rex are in the final-
http://ultimateclassicrock.com/jethro-tull-vs-t-rex-hall-of-fame-finals/
19-07-2013

PLEASE VOTE FOR MARC!
http://ultimateclassicrock.com/alice-cooper-vs-t-rex-hall-of-fame
13-07-2013

14th September 2013. A difficult decision....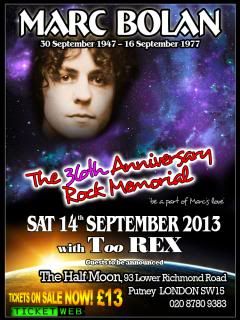 12-07-2013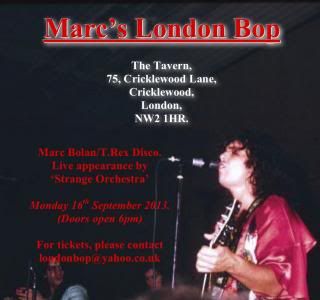 11-07-2013

Safe journeys to everyone going to the Swedish Bop this weekend! Best of luck to Sven & Marianne who have worked very hard in putting the Bop together. Hope everyone has a fab time!
10-07-2013

The London Bop tickets have arrived at last so orders will be sent out as soon as possible! For all details please send an email to londonbop@yahoo.co.uk
05-07-2013

Happy Birthday to the legendary Andy Ellison!  
Petals & Flowers!

04-07-2013

Happy Birthday Left Hand Milan. Rock On with the Spirits in The Sky! xxx
03-07-2013

Monday 16th September 2013.
MEMORIAL FOR MARC,
Golders Green Crematorium,
Hoop Lane,
Golders Green,
London,
NW11 7NL.
2pm start. A gathering of fans, family & friends to remember Marc on his 36th Anniversary.

THE LONDON BOP!
Venue-
The Tavern,
75, Cricklewood Lane,
Cricklewood,
London,
NW2 1HR.
Live appearance from the Rexcellent 'Strange Orchestra', Bolan/T.Rex disco with fabulous DJ Peter!
Doors open 6pm, closing at 1am. Raffle in aid of CICRA.
Bop tickets are £10 each - please contact londonbop@yahoo.co.uk to order.
OMBFC members have priority for tickets.
25-06-2013

Happy Birthday to Marc's brother, Harry Feld, who celebrates his 68th Birthday today!