25-06-2017

Wishing Harry Feld a very Happy 72nd Birthday!  

03-06-2017

Happy Birthday to the fabulous Mickey Finn who would have been 70 today. R.I.P.


20-05-2017

In memory of Steve Currie on his 70th Birthday (20th May).
R.I.P.


11-05-2017

Geoffrey Bayldon R.I.P.


08-05-2017

Happy 73rd Birthday to Bill Legend! Legendary drummer with the original T.Rex.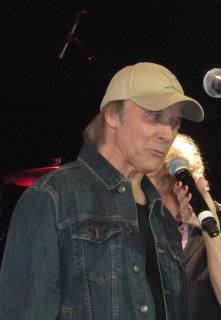 03-05-2017

Remembering my lovely friend Wayne, who passed away 4 years ago today.
Wayne was our DJ at our Beltane and Rexmas Bops in Newcastle.
Thinking of Wayne and his family on this sad day. R.I.P. x
28-04-2017

In memory of T.Rex bass player Steve Currie, 36 years on. Steve passed away on 28th April 1981 in a car accident in Portugal.
R.I.P.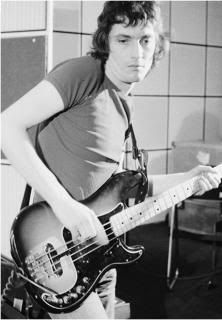 22-04-2017



Remembering Milan, my lovely Bolanic friend. Still very much missed, 10 years on.
Rock On, Left Hand Milan.
R.I.P.
06-04-2017

THE GROOVE LOUNGE!
I am very happy to report that Barry and the Groove Lounge will be back from next Wednesday!!

CRMK have a new studio which has just been fully refurbished. The show will be live and on air from 7pm to 8pm. More details and links below, but for now have a think and get ready to send in your requests!

News from Barry-
Going to give the radio a try from Next Wednesday - 1 hour slot 7 - 8 pm - will do some specials hopefully too.
Website - www.crmk.co.uk
Its internet only and I will work something out for listen again however the shows are repeated during the week.

They have installed a WhatsApp interface so that requests and pictures etc are shown on a screen - so to make a text request you use WhatsApp and search for CRMK otherwise the text number is 07491772752

You can email me at mail@thegroover.net
I will sort out twitter etc later.
You also have my mobile so you can get me directly at any time during the show.
So you can tell everyone now but remember not done this for a while and so will be ropey!

Ps. Any suggestions and features for the show?

Thats it for now groovers.
Bx
20-03-2017

LONDON BOP 2017!
Tickets are available now!
Please contact londonbop@yahoo.co.uk for ordering details.

28-01-2017

Remembering T.Rex keyboard player Dino Dines, who passed away 13 years ago today. R.I.P.


13-01-2017

SEPTEMBER 40th ANNIVERSARY MUSIC EVENTS!
Friday 15th September 2017-TooREX:


The 40th Anniversary Marc Bolan Memorial Concert with TooREX
Commemorating 40 years since über rockstar Marcs untimely departure (1947~1977~2017)
The Half Moon, 93, Lower Richmond Road, Putney, London, SW15.
Just T.REX and Marc tunes played either side of TooREX performance - (two hot sets of Bolan classics) - plus late aftershow T.Rex party for all ticket holders! Meet and greet the band in the venue and chat to friends old and new in the comfortable front lounge bar areas. Great food available too..
*****
Friday 15th September- T.Rextasy and guests: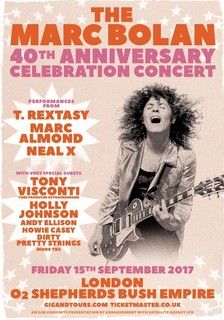 Shepherds Bush Empire, Shepherds Bush Green, London, W12. A very special evening commemorating Marcs 40th Anniversary.
The amazing Marc Almond has teamed up with T.Rextasy to arrange what will be a most memorable and emotional evening.
The legendary Tony Visconti (T.Rex/David Bowie producer), the most excellent Holly Johnson (Frankie Goes to Hollywood), the superb Andy Ellison (Johns Children/Radio Stars), The Dirty Pretty Strings (sublime string quartet), not to mention Howie Casey (original saxophonist on 20th Century Boy) have already agreed to take part in this wonderful event, and who knows, a couple more may even be added in due course!
*****
Saturday 16th September- The London Bop!
A celebration of the life and music of the fabulous Marc Bolan.
Full details to be announced - watch this space!!
11-01-2017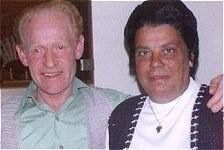 Remembering Marcs Mum, Phyllis Winifred Feld (nee Atkins), who passed away on 11th January 1991.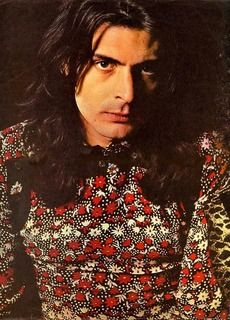 Also thinking of Mickey Finn, who passed away on 11th January 2003.

R.I.P.
01-01-2017

HAPPY NEW YEAR! Wishing you all a fantabulous 2017!
I know for many that 2016 was not such a good one but I hope the coming year brings you and your families good health, wealth, love, peace and happiness.
All the best, with all my love,
x Susu x

24-12-2016

Wishing all members and fans a very Happy and Cosmic Christmas!
Thank you for the lovely Christmas cards and gifts you have sent to me, and for your kindness during the past year. I am truly grateful for my "Bolanic family" and for your support and patience during my illness.  
Special wishes to all those who will be spending Christmas alone or who are having a bad time at the moment.  
Sending Jitterbug Love and hugs,
x Susu x
13-11-2016

In memory of all the brave. R.I.P.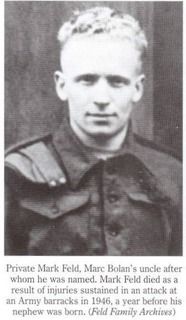 07-11-2016

NEWCASTLE BOP!


Tickets are available NOW from www.seetickets.com/event/t-rex-disco-party/the-cluny/1039152
27-10-2016

Remembering Steve Took (born Stephen Ross Porter) who passed away 36 years ago today at the age of 31.
Buried in Kensal Green Cemetery at the end of Ladbroke Grove.
In Remembrance. R.I.P. Steve.

30-09-2016

Wishing our Main Man all our love on what would have been his 69th Birthday.

16-09-2016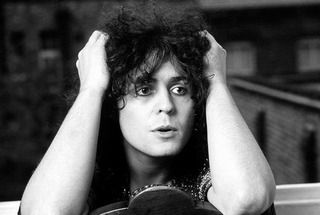 In loving memory of Marc Bolan on the 39th Anniversary since his passing. Still missing you Marc. Thanks for the music, the lyrics and the memories, which will live forever.
x Susu x

Tribute by Barry Smith-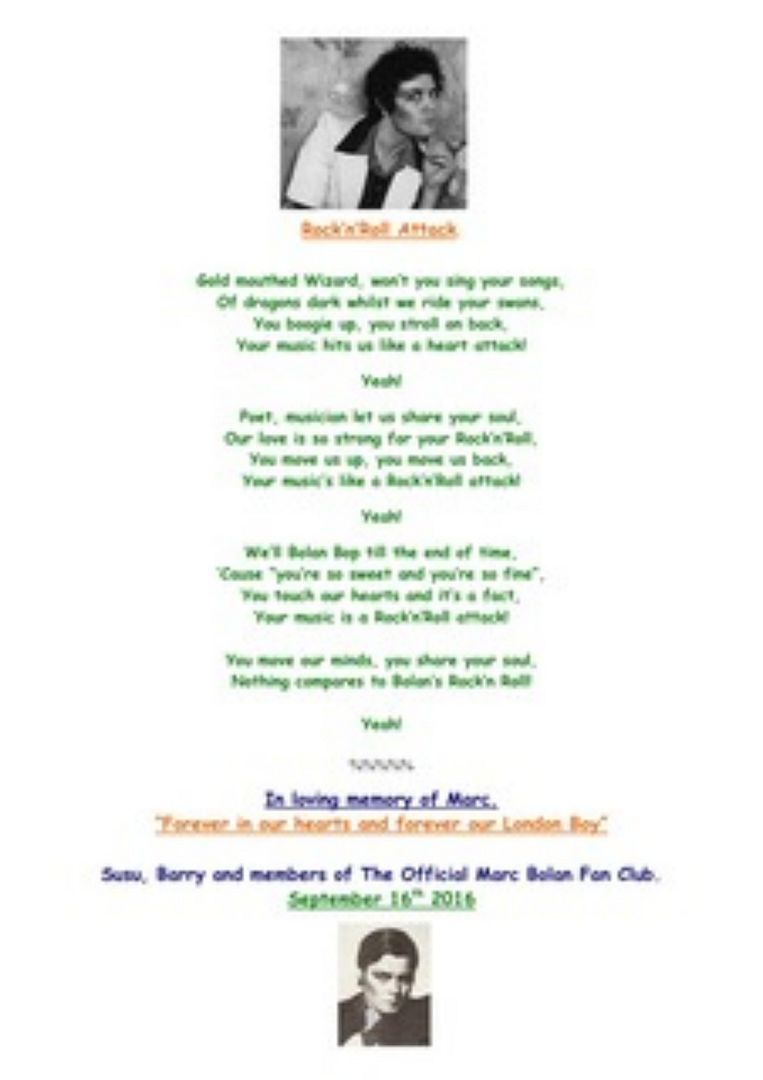 23-08-2016

Today would have been the 89th Birthday of Marcs Mum, Phyllis Feld, born on 23rd August 1927. R.I.P.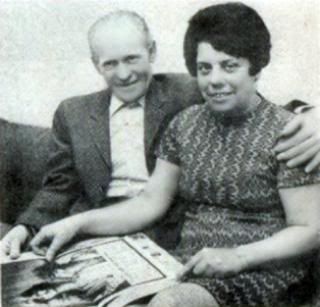 Also thinking of Marcs wife June on what would have been her 73rd Birthday. R.I.P.

22-08-2016

Remembering Simeon Feld, Marcs father, who was born on this day in 1920. R.I.P.

05-08-2016

London Bop 2016!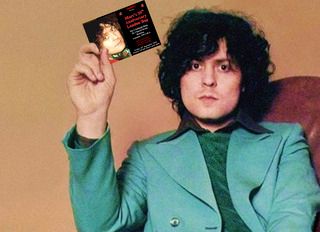 Please order your tickets before 15th August to guarantee delivery before the Bop! Email londonbop@yahoo.co.uk for details.
28-07-2016

Thinking of Steve Took, who would have celebrated his 67th birthday today. R.I.P.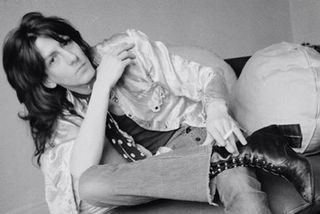 23-07-2016

LONDON BOP 2016!
Happy to say that tickets are selling well (over 80 ordered now) and these will be sent out next week.

To order your tickets, please contact londonbop@yahoo.co.uk
Marc Bolan/T.Rex Disco with DJ Peter. Live music by "Glitters From Billy" (Remco).
Venue - The Claddagh Ring, 10 Church Road, Hendon, London, NW4 4EA.
Doors open 6pm - 2am. Raffle and merchandise stalls on the night. Donations of prizes for our raffle gratefully accepted.
We have the two downstairs areas this year, as well as the outside tables, and not the upstairs room.

04-07-2016

Sending Birthday wishes to my friend Milan, who would have been 57 today. Rock On! R.I.P.
25-06-2016

Wishing a very Happy 71st Birthday to Harry Feld!


23-06-2016

LONDON BOP 2016!

Tickets for the Bop will be available in a few weeks time.
We Love To Boogie On A Friday Night!
A celebration of the life and music of Marc Bolan on his 39th Anniversary.

VENUE-
The Claddagh Ring,
10 Church Road,
Hendon,
London,
NW4 4EA.

The fantastic "Glitters From Billy" (Remco) will be playing live at the London Bop 2016!
Bolan/T.Rex disco with our lovely Bop DJ Peter.
Doors open 6pm, ending at 2am.
Raffle in aid of CICRA (Crohns In Childhood Research Association). Any donations of prizes would be very welcome -Please email londonbop@yahoo.co.uk first if you have anything to donate, or bring them along on the night!
To order tickets please contact londonbop@yahoo.co.uk or log in to our members forum for details.
03-06-2016

Happy Birthday to the lovely Mickey Finn who would have been 69 today. R.I.P.


03-05-2016

In memory of my lovely friend Wayne, who passed away 3 years ago today.
Wayne was our DJ at our Beltane and Rexmas Bops in Newcastle.
Thinking of Wayne and his family on this sad day. R.I.P. x